Our strategy
Sustainability + Innovation = Growth
Our strategy is to combine leadership in sustainability with market-leading innovation to deliver consistent top and bottom-line growth, with profit growing ahead of sales, ahead of volume. This enables us to help to meet global challenges and capture new opportunities.
Croda Annual Report 2022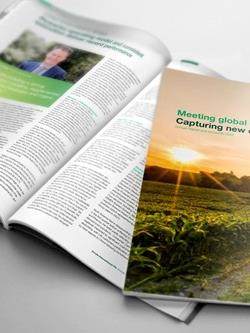 A strategy for a changing world
Consumers globally are looking to play their part in living more sustainably through the products that they buy. We enable customers to meet their sustainability goals through the sustainable benefits in use of our innovation and by improving the impact of our operations and supply chains. This includes removing fossil based ingredients, reducing emissions, restoring biodiversity and ensuring transparency through our supply chains. Our restorative sustainability strategy is built on 23 UN SDG targets, grouped around the themes of climate, nature and society, hence our commitment to be Climate, Land and People Positive by 2030.
We grow by creating new market and technology niches, so our success is dependent on our ability to deliver innovative solutions to customers. The foundation of our innovation model is internal R&D investment, applying the expertise of our scientists to meet customer needs. This is complemented by our open innovation network, providing access to over 500 universities and SMEs to help develop new intellectual property. In addition, we look to acquire technologies with disruptive potential that can be scaled through organic investment, further bolstering our innovation pipeline.
Our Group strategy is complemented by our sector strategies and strategic priorities.
Sector strategies
Strengthen Consumer Care:
Innovate for sustainable ingredients
Expand our full formulation capabilities
Deliver on Iberchem sales synergies


Expand Life Sciences:
Expand range of technologies in Pharma
Scale up operations across Pharma platforms
Accelerate the development of biopesticides in Crop

Strategic priorities
Fast grow Asia:

Solus Biotech integration
Investing in technical capability
Expanding local sales teams

Scale Biotech:

Leveraging recent acquisitions for early stage research
New application laboratories for scale-up
Focused investment on niche innovation

Proactive M&A:

'Chief Scouts' appointed
Targeting knowledge-rich businesses
For subsequent geographic expansion and scale-up

Doing the basics brilliantly:

Improving the customer experience through insight
More digital connectivity
Self-serve data for customers
Read more

Appointment of Non-Executive Director
24 March 2023: We are pleased to announce the appointment of Non-Executive Director, Chris Good
Read more

11th Most Sustainable International Company
We are celebrating being ranked the top of the chemicals sector for the sixth year running in Britain's Most Admired Companies award
Read more