Smart science
"Innovation drives us to achieve our Purpose – using Smart science to improve lives™ - enabling Croda to create smarter and more sustainable ways of living."
Damian Kelly, Vice President Innovation & Technology Development

Case study: Improving lives
Throughout the pandemic we worked closely with companies and universities developing vaccines, supporting them during the development phase, clinical trials and scale-up processes.
We shared our science, including new and extended data sets, with researchers as they worked to understand how a vaccine might be developed. We also gifted our leading saponin vaccine adjuvants and other components to teams across the world. Our speciality excipients, lipids and adjuvants were formulated as critical components in COVID-19 vaccines approved for use by regulatory authorities. Our cross-functional teams worked with partners at high speed to refine the complex processes involved in achieving the volumes and purity required.
The delivery of innovation and the creation of new technologies are two key parts of our strategic approach to growth, are critical to our current and future sustainability ambitions and are the most important elements of our engagement with customers. Achieving this means:
| | |
| --- | --- |
| We are: | This means: |
| Investing in our own Research and Development (R&D). | We have more than doubled our number of R&D labs since 2014. |
| Developing our biotechnology capabilities. | We have expert knowledge in the four main areas of biotechnology, with a range of capabilities across our specialist laboratories. |
| Identifying and delivering disruptive technologies. | 27.4% of our sales in 2020 were New and Patented Products (NPP). |
| Commercialising new technologies through acquisition and licencing. | Eight acquisitions since 2017, providing access to new ideas and technologies. |
| Identifying and harnessing innovative digital technology. | Our digital R&D programme will deepen our ability to work collaboratively internally and externally, including enhanced data science capability across our global R&D knowledge base. |
| Developing Open Innovation and Smart Partnering programmes to further strengthen ties with universities, academics and technology enterprises. | We have more than 500 Open Innovation projects globally, and we sponsor more than 500 PhD students across Europe. |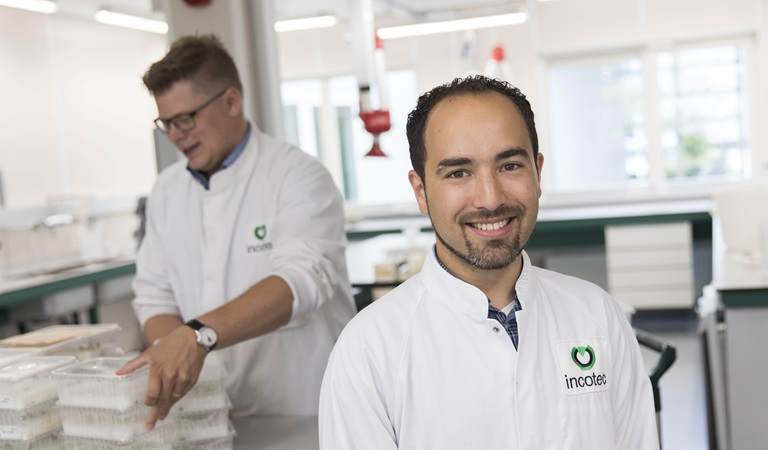 Case study: Driving innovation in the Crop Care market
Agriculture is responsible for approximately 20% of carbon emissions globally, so it is not surprising that the environmental impact of the agricultural industry is becoming a high-profile issue. While the industry has traditionally relied on chemical fertilisers and pesticides, the potential of biologics in crop care is now better understood. The role of predators to control insects in greenhouses is well established but micro-organisms and naturally occurring compounds also have potential as biostimulants and biopesticides.
Through Croda's acquisition of the Incotec Seed Enhancement business in 2015 and the Plant Impact Biostimulants business in 2018, we are well placed to address some of the challenges in the adoption of biologics. These include the survival of micro-organisms before use, compatibility with application methods and variations in environment. We have developed new technology, which when applied to soybean seeds results in stimulation of shoot and root growth, and increased yields. We are now evaluating this biostimulant in different seed application technologies. In collaboration with Royal Holloway University of London, we are also further developing seed enhancement as the optimal method of microbial application. We are also using Artificial Intelligence (AI) to address the big data challenge of optimising biologics for specific environments.
Delivering innovation and sustainability for customers
At Croda, we not only create products to meet unmet customer and consumer needs, but we also maximise efficiency in our operations and manufacturing through sustainable processes and the use of a high percentage of bio-based raw materials.
With a shared passion for ideas and innovation, our world class scientists are constantly developing and identifying new ways to help our customers, while also delivering our Commitment to sustainability. Right now, that includes working on:
Identifying new bio-based raw materials
Advancing biotechnology
Reducing our carbon footprint and emissions
Reducing our manufacturing impact, including reducing energy consumption and water impact and usage.