Investor overview
Croda is the name behind some of the world's most successful brands. We combine our knowledge, passion and entrepreneurial spirit to create, make and sell innovative ingredients that are relied on by industries and consumers around the world.
Consumer Care
(c.15% of sector sales)
Beauty Actives operates in the highest premium part of the market, offering customers scientific expertise for unparalleled product efficacy. Croda leads the market with the largest actives portfolio, through three brands: Sederma, for differentiated skin actives derived from peptides and biotech; Alban Muller, for natural botanical actives; and Crodarom, for botanical extracts. The strategy is to be the 'go to' provider for performance claims, reinforcing our leadership by expanding our footprint, accessing sustainable technologies, leveraging the recent Alban Muller acquisition and targeting new acquisitions in adjacent technologies, such as the recently announced Solus acquisition.
(c.55% of sector sales)
Beauty Care delivers differentiated ingredients across skin, hair and solar care, with a heritage portfolio which is the second largest in the industry. The strategy is to strengthen Beauty Care through a focus on growth and agility in the target market segments, innovate in sustainable effect ingredients, deliver a full service formulation capability for customers and differentiate our products through a rich data set which customers can leverage to meet their specific market needs.
(c.25% of sector sales)
F&F is the preeminent emerging market provider, with near-global reach and innovative technologies that meet smaller customers' needs. This is delivered through two fragrance brands: Iberchem, differentiated by its customer intimacy and responsiveness; and Parfex, with its excellent reputation in prestige markets for fine and natural fragrances, as well as Scentium in Flavours. The strategy is to develop the business as a leader in sustainable fragrances, unlocking the potential of F&F through organic growth and driving synergies with Croda's ingredient customer base.
(c.5% of sector sales)
Home Care is focused on bringing Croda's ingredients to selective premium home care markets. This is delivered through two technology platforms which deliver improved efficacy and sustainability: fabric care, with proteins that increase the lifetime of clothes; and household care, with sustainable alternatives to fossil-based surfactants.
Life Sciences
(c.60% of sector sales)
Pharma targets leadership in biologics drug delivery, delivering drug and vaccine systems through synthesis, system formulation and application technology know-how, and comprises three platforms:
Protein/Small Molecule Delivery has an established record of providing excipients (delivery systems) for complex protein drugs. These large, sensitive molecules are typically injected. Our differentiated range delivers the highest purity excipients to customers, including 'Big Pharma'. Our strategy is to support established small molecule drugs and develop excipients for complex protein and monoclonal antibody (mAb) applications.
Adjuvant Systems was created by our 2018 acquisition of Biosector, creating the best invested third party supplier of adjuvants (immune response boosters) for vaccines. Our strategy is to accelerate use of innovative adjuvant systems, comprising multiple building blocks, supporting WHO vaccine programmes and the development of future preventative and therapeutic vaccines.
Nucleic Acid Delivery was created by our 2020 acquisition of Avanti and delivered the world's first commercial lipid system for mRNA vaccines for COVID-19. Nucleic acid therapeutic drugs and vaccines will be increasingly commercialised from 2025. Avanti brought an unmatched portfolio of R&D customer relationships, with over 3,000 customers and a diverse range of lipids and similar components. Our strategy is to be a global leader in nucleic acid delivery systems by expanding our portfolio of technologies and ingredients.
(c.30% of sector sales)
Crop Protection has leading relationships with the major crop science companies, offering ingredients that improve performance and delivery of crop formulations. Our strategy is to deliver sustainable solutions using technology platforms and expertise in complex crop formulation systems, improving yields, accelerating the transition to biologics and contributing to food security.
(c.10% of sector sales)
Seed Enhancement leverages our leadership in seed coating systems to improve germination, stimulate healthy development of seeds and increase crop yield. Our strategy is to be the leader in sustainable solutions for field and vegetable crops.
Croda Annual Report 2022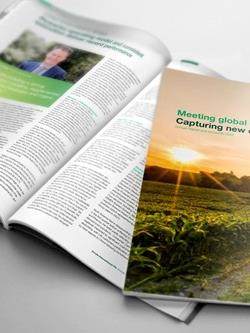 Focused on high value niches
Croda is becoming a pure play company, focused on high value niches in consumer care and life science markets. This is creating a stronger margin, higher return, more knowledge intensive and lower carbon intensive business. This will translate into consistent top line growth and increased margins, delivering superior returns in the years ahead.
A differentiated business…
Focused on high growth niches
We prioritise value over volume and focus on high growth niches. Operating with flexible manufacturing we can be responsive to demand.
Underpinned by innovation
Intellectual property and know-how underpin our success. Direct selling, unrivalled customer intimacy and local R&D facilities fuel our innovation engine.
With a Purpose-led culture
A culture built on customer intimacy, innovation, and entrepreneurial spirit, guided by our Purpose. This supports a decentralised operating model with decisions made 'close to customers'.
Leading sustainability Commitment
Sustainability is a core pillar of our strategy. Not only is it the right thing to do, it will also drive growth in our business as consumers demand sustainable ingredients.
And a diversified customer base
With diversified exposure across markets, customers, and technology platforms we are not reliant on any single customer.
...with attractive financial characteristics
Attractive operating margins
A focus on small niches, where our innovation is valued by customers, means we achieve an attractive return on sales.
With high returns on capital
Our capital light and cash generative operations support high returns on capital, with a target of at least two times out cost of capital.
A clear capital allocation policy
We have a clear capital allocation policy prioritising organic investment in sustainability and innovation for growth.
And strong balance sheet
With net debt to EBITDA of 0.5x our balance sheet strength supports the execution of our strategy and potential inorganic investment.
Delivering attractive shareholder returns
A track record of delivering attractive returns to shareholders with consistent dividend progression for more than 30 years.