Atlas Point
Croda's Atlas Point site develops and manufactures high-performance ingredients and technologies featured in many popular consumer brands as well as health and crop care products. We manufacture 100% bio-based surfactants, the first of their kind in the U.S., which are found in soaps, makeup, and cleaning supplies, among other products. Atlas Point is also home to the Griffin Centre, an innovation lab run by our Research and Development team, as well as Croda's community engagement team, which strives to make a positive impact in New Castle, Delaware.

Approximately 240 employees make up our Atlas Point team, including union members with United Steelworkers AFL-CIO-CLC, Local #12886. We are all deeply committed to supporting our neighbors and the Delaware business community through our engagement efforts and dedication to sustainability.
Have questions about Atlas Point? Contact our Community Engagement team via email, AtlasPoint.CE@croda.com, or via our Community Information Line, +1 (302) 429-5474.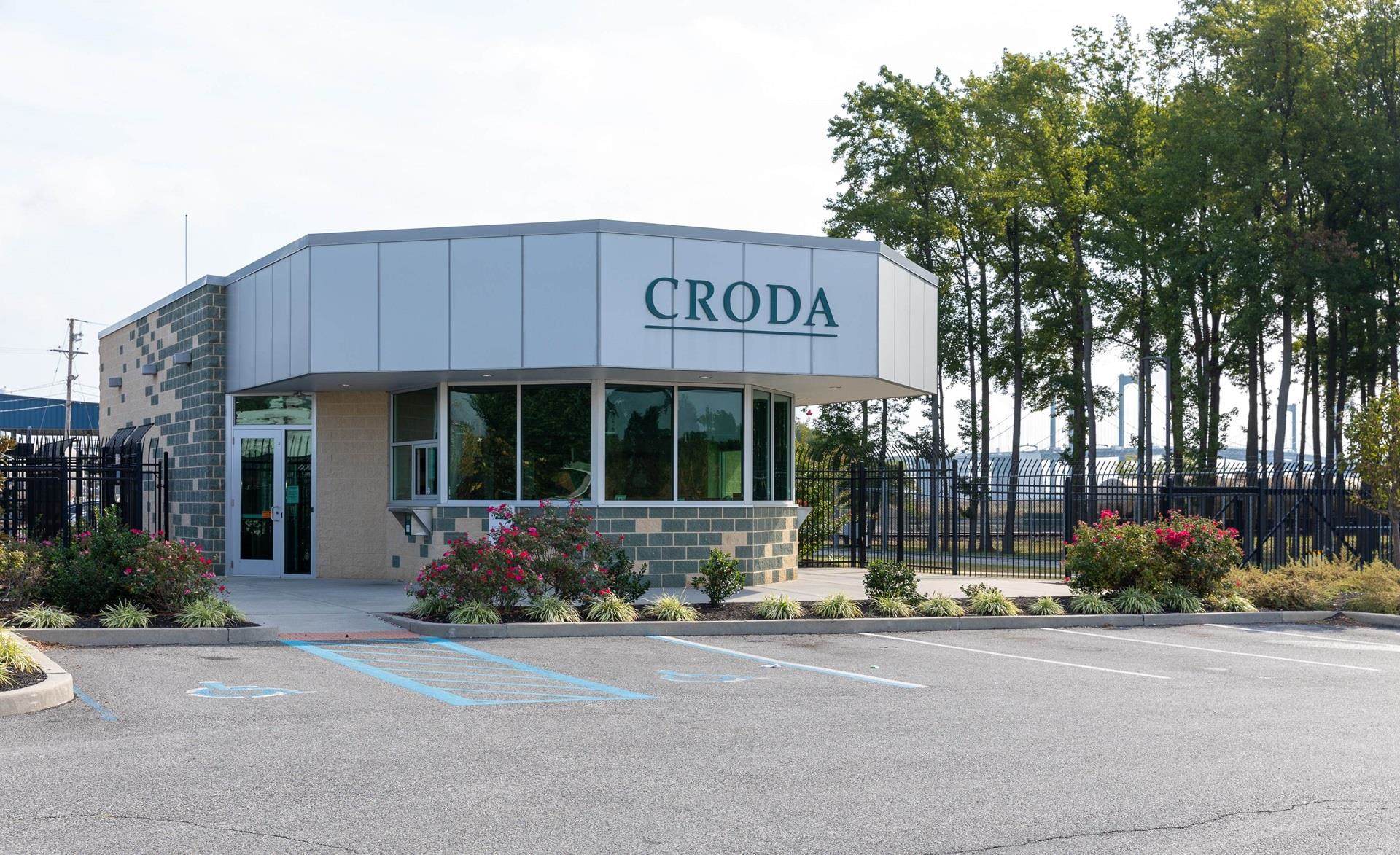 Atlas Point community updates
Croda Atlas Point is deeply committed to the safety of its employees and its community members. We are committed to ensuring safe operations at our facility and using our strong commitment to sustainability to continually improve our impact on the environment.
Croda Community Notification System (CCNS)
The installation of the Croda Community Notification System (CCNS) is complete. Sirens are located at:
Atlas Point
Eisenberg Elementary School
Police Athletic League (Garfield Park)
Rose Hill Community Center
The CCNS was installed to ensure our neighboring communities are alerted to any potential situations at our site that could impact public safety. The four sirens comprising our CCNS were simultaneously tested on February 8, 2022. All four sirens were successfully activated during the test.
Going forward, routine siren tests will be performed for one minute at 7:00 pm on the second Tuesday of every February, May, August, and November. Dates for 2023 are as follows:
February 14, 2023

at 7:00 pm

May 9, 2023

at 7:00 pm

August 8, 2023

at 7:00 pm

November 14, 2023

at 7:00 pm
This notice and the expansion of our alarm system is undertaken as part of the settlement of an enforcement action.
April 2022 - Croda Atlas Point is proud to be a longtime member of the New Castle community, and we are dedicated to the safety of our neighbors and employees. On Wednesday, April 13 at 6:00 PM, we will be participating in a virtual community meeting hosted by the Department of Natural Resources and Environmental Control (DNREC), the U.S. Environmental Protection Agency (EPA), and the Delaware Division of Public Health (DPH). Information about the manufacture and use of ethylene oxide in Delaware will be shared.
An EPA staff representative will serve as the meeting facilitator. Following presentations from four panelists, there will be time for attendees to ask questions. The meeting does not require advance registration, and the link can be found on DNREC's website.
In line with Croda's core value of becoming land, climate and people positive, we look forward to sharing information about our Atlas Point operation on April 13. We continue to strive to be a model corporate citizen by meeting or exceeding our regulatory obligations and reducing our footprint on the environment, read more here.
We recognize community members may have concerns following the revision of the National Air Toxics Assessment of EtO by the EPA. Since that time, we have worked hand-in-hand with DNREC to complete a comprehensive evaluation of the site and its environmental and safety measures including the investment in new equipment to improve operations and reduce emissions. We will discuss this more at the April 13 community meeting.
To learn more about our operations, please refer to our question and answer document for more information about Atlas Point.
What's that sound?
Croda's Atlas Point facility has an audible community alarm, the Croda Community Notification System (CCNS), which is separate from our site-only alarms for employees. The CCNS is used to alert the community about situations occurring at our site, if ever needed. Working in cooperation with the New Castle County Office of Emergency Management, the CCNS would be used to notify neighbors of an emergency.
Our sirens are located:
Along Cherry Lane near the Atlas Point facility
On Landers Lane, near Eisenberg Elementary School
On Karlyn Drive, near the Police Athletic League (PAL) Garfield Park site
On Lambson Lane, near Rose Hill Community Center
Listen to the siren here, and learn what to do if you hear the siren here.
The CCNS will be tested during the following dates and times:
In 2022, the CCNS will be tested during the following dates and times:
February 8 at 7:00 pm

May 10 at 7:00 pm

August 9 at 7:00 pm

November 8 at 7:00 pm
No community action is necessary during these scheduled tests.
The CCNS was installed in collaboration with the New Castle County Office of Emergency Management. The CCNS will be used to notify neighbours in the event of an emergency.
Giving back
We firmly believe in our social obligation to make a positive, lasting difference in the New Castle community. Atlas Point is always exploring new community engagement initiatives. In the past, we were able to support organizations such as Rose Hill Community Center, Food Bank of Delaware, Holloway Terrace Fire Company, and FAME, Inc. Going forward, we are working to increase our involvement with local STEM programs. Additionally, our employees regularly come together to give back through local volunteerism. Click below to learn more about our recent activities.
Network Connect

February 28, 2022

A few of our employees spent time volunteering with Network Connect. They assembled youth mental wellness packages, called RACE kits, for elementary-aged kids in our area.

Head Start Program

December 8, 2021

For the holidays, we donated books and toys to the young learners, ages 3-5, in the Head Start program, which operates out of Rose Hill Community Center. We were excited to check out the toys before they were given to the students!

FAME Inc.

October 16, 2021

We visited FAME Inc.'s students during a break in one of their School Year Program sessions. We presented them with a check that covers the attendance cost of the students from William Penn High School.
Sustainability
Atlas Point's sustainable practices support Croda's 1.5°C science-based target and its wider sustainability Commitment to become Climate Positive. Atlas Point is also home to our ECO Range, which manufactures 100% bio-based surfactants, the first of their kind in the United States. We are continuously re-evaluating our processes to determine how we can become more sustainable. We have already implemented numerous changes, such as using onsite solar panels and combined heat and power units that are powered by landfill gas. These shifts have resulted in:
The site running on 100% renewable electricity
Nearly 37% of the site's generated energy being renewable in 2020
A reduction in greenhouse gas emissions intensity and waste to landfill since 2018
To learn more about safety and sustainability at Atlas Point, watch the video below about the exciting initiatives in place around emissions control, renewable energy, bio-based raw materials, and community engagement at the facility.
Sustainable Manufacturing at Atlas Point
Community help
More information on what we are doing to help our local community
To subscribe to the Croda Atlas Point Community Mailing List, please provide to us your name and email address. Croda Atlas Point will use your personal information to provide you with a newsletter regarding our manufacturing facilities in New Castle, Delaware on a regular basis, to provide you with notices and updates about maintenance, testing, training and other regular activities planned for our facilities, and to share with you important information in the event of an emergency.
You can choose to discontinue receiving the newsletter, notices and updates, and any emergency communication from us at any time by clicking the unsubscribe link in the footer of any email you receive from us, or by contacting us at AtlasPoint.CE@croda.com. For more information on our privacy practices, please read our Privacy Policy. By providing to us your name and email address, and by clicking "Submit", you agree we may collect and process your information in accordance with these terms.
To best collaborate with our community, Atlas Point facilitates a Community Advisory Council (CAC), which was established over a decade ago. This group of community leaders meets with Croda officials every other month to share news and work together on community-focused efforts. The CAC helps us connect with our neighbors and allows us to circulate information more easily about our site.
CAC members represent the following organizations:
CHEC Inc.
Collins Park Civic Association
Community activist groups
Delaware Economic Development Office
Delaware House of Representatives
Delaware River and Bay Authority
Delaware State Police
FUJIFILM Imaging Colorants
Holloway Terrace Fire Company
LEPC for New Castle County
Northern New Castle County Probation and Parole
Rose Hill Community Center
As part of our ongoing commitment to keep our neighbors informed, our Community Information Line provides updates about general operations and routine tests at our site. Community members may also call this line to ask questions.
Police/Fire Call 911
Croda Atlas Point Community Information Line - 302-429-5474
The Delaware Emergency Notification System
Register on the DENS website here.
The Delaware Emergency Notification System (DENS) is the primary system for public warning and emergency protective action information in the State of Delaware. Municipalities, Counties, and State Agencies utilize the system to inform and warn the public during emergencies that adversely affect the health, safety, and welfare of Delaware citizens. The system allows local 911 centres or emergency managers to send messages to the specific street, neighbourhood, or larger areas affected by the event. In the event a line is busy, the DENS system will retry 2 additional times to deliver the message. If an answering machine or voicemail is reached, the system will deliver the emergency message there.
Registering your phone enables DENS to geocode your phone number to your home (or work) address and can send messages to your cell phones and Voice over IP home phones. If an emergency message has a text or e-mail included, registering your phone information will allow you to receive the text or e-mail message.
DENS allows emergency voice messages to be delivered to a home or business within the traditional land line telephone network. If you have this type of phone, your address and phone number is already in the DENS database.