Atlas Point
Croda develops and manufactures high-performance ingredients and technologies featured in many popular consumer brands as well as health and crop care products. At our Atlas Point manufacturing site, 100% of our electricity is renewable thanks to onsite solar fields, use of landfill gas, and wind energy. We manufacture 100% bio-based surfactants, the first of their kind in the U.S., which are found in soaps, makeup, and cleaning supplies, among other products. Atlas Point's sustainable practices support Croda's 1.5°C science-based target and its wider sustainability Commitment to become Climate Positive. Atlas Point is home to an R&D innovation lab and Croda's community engagement team, which strives to make a positive impact in New Castle.
Approximately 240 employees make up our Atlas Point team, including union members with United Steelworkers AFL-CIO-CLC, Local #12886. We are all deeply committed to supporting our neighbors and the Delaware business community through our engagement efforts and dedication to sustainability.
Have questions about Atlas Point? Contact our Community Engagement team via email, AtlasPoint.CE@croda.com, or via our Community Information Line, +1 (302) 429-5474.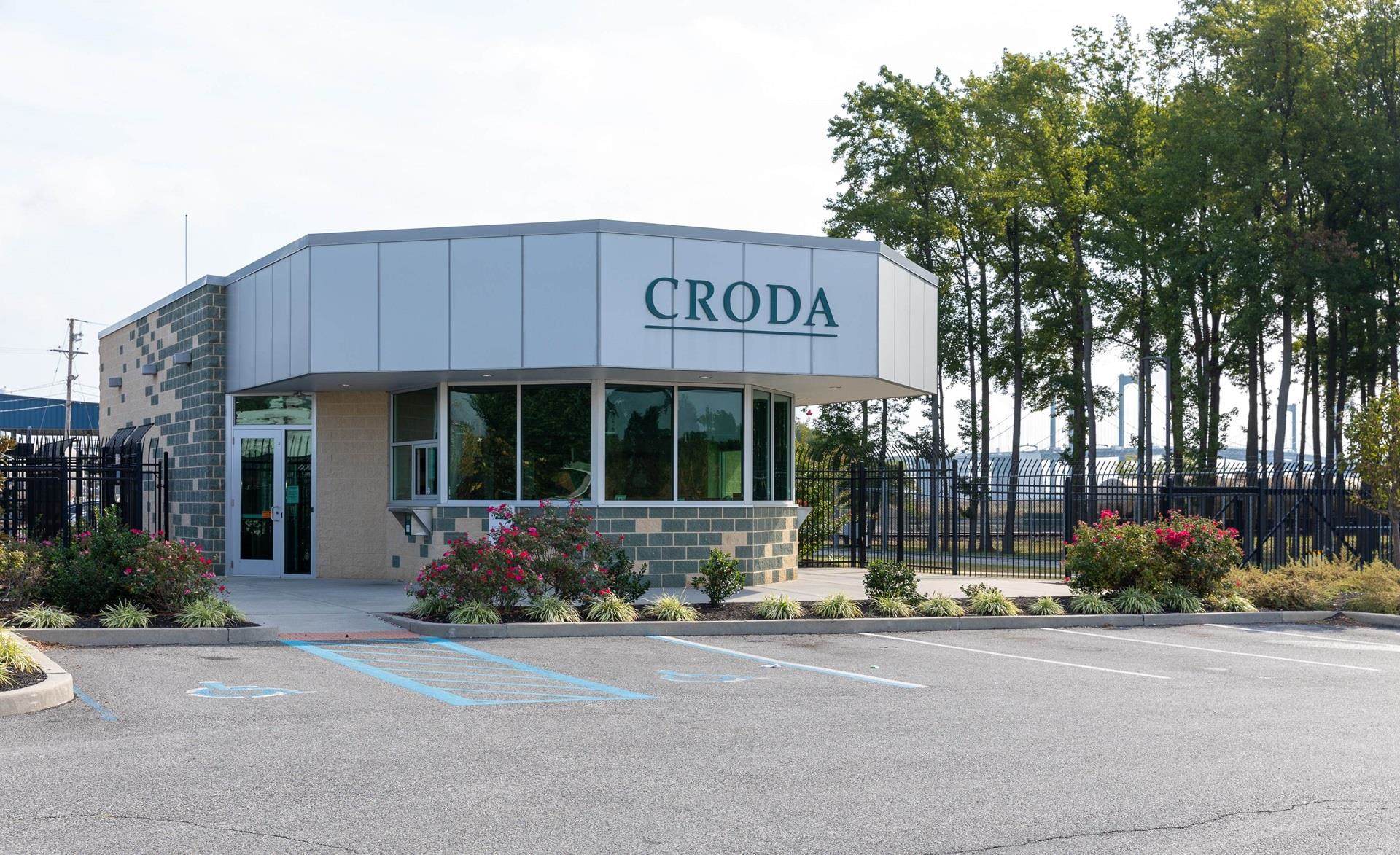 About Our Facility
Croda Atlas Point is deeply committed to the safety of our employees and our community members. We are dedicated to ensuring safe operations at our facility and using our strong commitment to sustainability to continually improve our impact on the environment.
The Responsible award was received by North America's Community Engagement team: who provided six students from a local high school with hands-on engineering experience in research laboratories at Bucknell University. The judges appreciated the team's efforts in promoting STEM education in the community around Atlas Point – one of our largest sites – and presenting science as a pathway to improving lives.
Congratulations to the nominees for this award, and to the Community Engagement team for being noticed as the most responsible.
Croda offers family - sustaining wages and benefits for our employees . Besides generous time off and health and retirement plans, we also offer paid parental leave. Jobs range from business services, research and development , chemical operat ions, and engineering. To learn about current vacancies, go to Croda's employment page.   Scroll down to the job listings. Look for roles in Delaware – New Castle. L earn more about some of our career profiles on the Delaware Foundation for Science and Mathematics Edu cation website.
What's that sound? Croda Community Notification System Information 
Croda's Atlas Point facility has an audible community alarm, the Croda Community Notification System (CCNS), which is separate from our site-only alarms for employees. The CCNS is used to alert the community about situations occurring at our site, if ever needed. Working in cooperation with the New Castle County Office of Emergency Management, the CCNS would be used to notify neighbors of an emergency.
Croda Community Notification System (CCNS)
The installation of the Croda Community Notification System (CCNS) is complete. Sirens are located at:
Atlas Point
Eisenberg Elementary School
Police Athletic League (Garfield Park)
Rose Hill Community Center
The CCNS was installed to ensure our neighboring communities are alerted to any potential situations at our site that could impact public safety. The four sirens comprising our CCNS were simultaneously tested on February 8, 2022. All four sirens were successfully activated during the test.
Going forward, routine siren tests will be performed for one minute at 7:00 pm on the second Tuesday of every February, May, August, and November. Remaining dates for 2023 are as follows:
May 9, 2023 at 7:00 pm
August 8, 2023 at 7:00 pm
November 14, 2023 at 7:00 pm
This notice and the expansion of our alarm system is undertaken as part of the settlement of an enforcement action.
Our sirens are located:
Along Cherry Lane near the Atlas Point facility
On Landers Lane, near Eisenberg Elementary School
On Karlyn Drive, near the Police Athletic League (PAL) Garfield Park site
On Lambson Lane, near Rose Hill Community Center
Listen to the siren here, and learn what to do if you hear the siren here.
Giving back
We firmly believe in our social obligation to make a positive, lasting difference in the New Castle community. Atlas Point is always exploring new community engagement initiatives. In the past, we were able to support local schools and STEM groups, fire departments, groups helping with food insecurity, and the Route 9 Library and Innovation Center. Going forward, we are working to increase our involvement with many local programs. Additionally, our employees regularly come together to give back through local volunteerism. Click below to learn about some of our recent activities.
New Castle Senior Center Holiday Event

Croda is engaged with the New Castle Senior Center in a variety of activities. After becoming a sponsor for the "Dining in the Streets" annual fundraiser, Croda continued the relationship with the Senior Center by sponsoring a holiday event. Attendees enjoyed live music, a holiday themed lunch, pictures with Santa, and even a holiday sweater competition.

Croda Staff Speak at William Penn High School

Three Croda Atlas Point staff members visited William Penn High School for the Delaware State Chamber of Commerce Principal for a Day program. Speaking to construction, engineering, agriculture, and environmental science students, the Atlas Point team was able to discuss opportunities in these fields and the way students can apply classroom learning in the real world.

Employees taking part in the day were all impressed with the students and thoroughly enjoyed the experience, saying it was a wonderful way to support students as they start to make important decisions about their future. The Principal for a Day program helps further the connection between school leaders and the business community. Croda is an active business partner with the Colonial School District.

Colonial School District Partnership Recognition

In recognition of our partnership with the Colonial School District, Croda Atlas Point was honored as a valued School District Business Partner at a 2022 school board meeting.

Brian Erskine, Supervisor in Schools for Colonial, touched on the various ways Croda offers STEM experiences for the district's students. Highlights include:

Providing (and underwriting) STEM programming for elementary summer camp students;

Inviting advanced chemistry and environmental science students from William Penn High School to participate in a learning day at the Atlas Point facility;

Providing summer scholarships that gave six William Penn High School students the opportunity to attend the week-long, residential, Bucknell University Summer Engineering Camp cost- and- tuition-free in 2022. (See photo.)


The students who attended Bucknell's camp thanks to Croda's scholarship program then presented to the Colonial School District's board. They discussed how attending the program not only provided a deeper dive in engineering itself, but better prepared them for the college admissions process, helped them understand the residential experience of college, and illustrated the many careers that are possible with an engineering degree. For example, students who had been focused on mechanical engineering are now considering biomedical or environmental engineering as well.

With a focus on being part of the fabric of the New Castle community, Croda looks forward to continuing engagement with the Colonial School District. Croda Atlas Point is currently in conversations with William Penn High School about structuring a career development program.

Basketballs for McCullough Middle School

Croda was originally hoping to share basketballs with Collins Park residents once the Croda funded children's park upgrades were complete. Due to supply chain and weather issues, the upgrades are still in progress. Not wanting to give up on the idea of distributing the basketballs, the 100 basketballs were delivered to McCullough Middle School. Principal Johnston was thrilled to have an opportunity to distribute them to student athletes and participants of after school programs.

Food Pantry Restocks

Croda is committed to helping the New Castle community in meaningful ways. Based on community feedback, addressing food insecurity is one of the most pressing concerns for families in need. We participate in Food Bank of Delaware mobile pantry events, provide funding to several Colonial School District Elementary Schools food pantries, and to Rose Hill Community Center's food pantry, open seven days a week in New Castle. The Director of Rose Hill, Sheila Berkel, shared kind words about the impact of Croda's support, "Often the food available at our pantry is focused on the main components - proteins, starches, fruits, vegetables, and so on. One of the things that really helps people feel more comfortable is being able to have condiments with their meals. You see faces light up when they realize we can offer those little things."

"The Air We Share" Environmental Awareness Art Contest

Winners of the "The Air We Share" Environmental Awareness Art Contest were celebrated at Forwood Elementary School in Brandywine School District. The contest challenged Delaware students in grades 3-5 to design artwork showing how a positive impact can be made on a community's air quality. Over 140 students were present for the award ceremony and to learn from career presentations given by Bloom Energy and Croda engineers.

The contest was developed by the Energy, Water, Environment and Climate Change (EWECC) task team of the Delaware Foundation for Science and Math Education (DFSME) to help bring awareness of air quality issue to students. Bloom Energy and Croda staff members are EWECC team participants.

The Senior Manager of Process Engineering at Bloom Energy, and Croda's Head of Manufacturing for Atlas Point, spoke to the Forwood students about how they became interested in science and math and what they do at work.
Sustainability
Atlas Point's sustainable practices support Croda's 1.5°C science-based target and its wider sustainability Commitment to become Climate Positive. Atlas Point is also home to our ECO Range, which manufactures 100% bio-based surfactants, the first of their kind in the United States. We are continuously re-evaluating our processes to determine how we can become more sustainable. We have already implemented numerous changes, such as using onsite solar panels and combined heat and power units that are powered by landfill gas. These shifts have resulted in:
The site running on 100% renewable electricity
A reduction in greenhouse gas emissions intensity and waste to landfill since 2018
To learn more about safety and sustainability at Atlas Point, watch the video below about the exciting initiatives in place around emissions control, renewable energy, bio-based raw materials, and community engagement at the facility.
Sustainable Manufacturing at Atlas Point
Community communication
More information on what we are doing to help our local community
As part of our ongoing commitment to keep our neighbors informed, our Community Information Line provides updates about general operations and routine tests at our site. Community members may also call this line to ask questions.
Police/Fire Call 911
Croda Atlas Point Community Information Line - 302-429-5474
To best collaborate with our community, Atlas Point facilitates a Community Advisory Council (CAC), which was established over a decade ago. This group of community leaders meets with Croda officials quarterly to share news and work together on community-focused efforts. The CAC helps us connect with our neighbors and allows us to circulate information more easily about our site.
CAC members represent the following organizations:
CHEC Inc.
Collins Park Civic Association
Colonial School District
Community activist groups
Delaware House of Representatives
Delaware River and Bay Authority
Delaware State Police
Delaware Technical Community College
FUJIFILM Imaging Colorants
Holloway Terrace Fire Company
LEPC for New Castle County
Northern New Castle County Probation and Parole
Rose Hill Community Center
The Delaware Emergency Notification System
Register on the DENS website here.
The Delaware Emergency Notification System (DENS) is the primary system for public warning and emergency protective action information in the State of Delaware. Municipalities, Counties, and State Agencies utilize the system to inform and warn the public during emergencies that adversely affect the health, safety, and welfare of Delaware citizens. The system allows local 911 centers or emergency managers to send messages to the specific street, neighborhood, or larger areas affected by the event. In the event a line is busy, the DENS system will retry 2 additional times to deliver the message. If an answering machine or voicemail is reached, the system will deliver the emergency message there.
Registering your phone enables DENS to geocode your phone number to your home (or work) address and can send messages to your cell phones and Voice over IP home phones. If an emergency message has a text or e-mail included, registering your phone information will allow you to receive the text or e-mail message.
DENS allows emergency voice messages to be delivered to a home or business within the traditional land line telephone network. If you have this type of phone, your address and phone number is already in the DENS database.